Connectivity: ensuring we meet our $100 billion industry target.

Abagael Higgs

The Australian agricultural industry has set an ambitious target: $100 billion per annum in farm gate output by 2030. The farm gate output for 2020-21 was $65 billion, a shortfall of $35 billion. Reaching this goal by 2030 will require collaboration from every stakeholder and a multi-faceted approach. However, one facet that will help ensure we unlock significant value for agriculture and meet this target is over-the-farm ubiquitous connectivity.
Without appropriate connectivity, advances in agriculture, such as smart farming, AG tech, and IoT, cannot happen. The agricultural sector faces significant challenges while reaching this industry target, such as labour shortages, environmental constraints, rising input costs, reducing food waste, and social pressures. In order to combat these challenges successfully and simultaneously grow in value, the sector must embrace digital technology. What value can digital technology unlock for agriculture?
Digital technology's value in agriculture.
Why does farming need digital technology? When agriculture experienced its last significant advance, it was through mechanisation. Mechanisation is now reaching the ceiling on any additional value-add for farms. Now, much more sophisticated digital tools and technologies are required to help unlock and promote a productivity leap. These digital tools and technologies can enhance decision-making for farmers, allowing improved risk and variability management to increase yields, efficiencies, productivity, and environmental management. They can achieve this by turning on-farm data into advanced, real-time, valuable, actionable insights.
For example, smart crop monitoring utilizes digital technology to monitor weather, nutrition, irrigation, pests, and system operations to improve resource use and boost yields through accurate real-time data collection. In turn, it helps farmers make more informed decisions about managing deficiencies, harvest, pests, and disease to maximize the output and production of their crops. A McKinsey study found that using more optimal digital connections between the soil, farm equipment, and farm manager globally could unlock a value of up to $175 billion to the global GDP, about a 13% increase in the global grain value. The grain industry in Australia for the 2021/22 season was worth just over $30 billion. By applying the findings in the McKinsey study, if Australian grain growers could achieve more optimal digital connections for smart soil monitoring and unlock a 13% increase in value, the result could be an additional $3.9 billion to the grain industry in Australia.
The same study by McKinsey found that improved monitoring of animal health and growth conditions through digital technologies could produce up to $90 billion in value to the global GDP, about a 5% increase in the global livestock value. The livestock industry in Australia for 2021/22 was worth $25 billion. By applying the findings in the McKinsey study, if livestock farmers could use improved monitoring technologies and unlock a 5% increase in value, the result could be an additional $1.25 billion for the livestock industry in Australia.
Only two avenues of digital technology have been highlighted in this article; both demonstrate the value digital technology can bring the Australian agricultural industry. The AFI predicts that full adoption of digital technology could yield $20.3 billion for the Australian agricultural sector. It's no wonder the NFF's road map to reaching $100 billion includes utilising technology to maximize farm data as one of its key pillars in action.
Successful agriculture is based on a sequence of correct decisions, such as when to plant, how to plant, when to manage pests, when to harvest, etc. Digital technologies help farmers to leverage their data in a way that helps them to understand more accurately what is occurring on-farm and make more informed decisions. However, there is a significant caveat to digital adoption in agriculture, and that is reliable connectivity.
Digital technology relies on connectivity.
How can we say that reliable connectivity is a caveat to digital adoption in agriculture? The vast majority of digital technologies available for farms rely on connectivity, and they need reliable connectivity to regularly upload and download data. Without connectivity, many either do not work or cannot function remotely near the performance levels required to provide benefits to farms.
This poses a significant challenge for the industry, especially as around 65% of Australian farmland has no or very poor mobile connectivity, and traditionally connectivity infrastructure has required considerable capital investment. Although many farmhouses and offices are connected to the internet, out in the fields where these technologies need to work, connectivity is not available. Infrastructure for connectivity must be implemented on farms for the full potential of digital technology to be realised. Fortunately, there are now increasingly more affordable options for farm businesses to gain ubiquitous connectivity from fence to fence. A McKinsey study has predicted that due to the increasingly more affordable options available for connectivity infrastructure, about 80% of the world's rural areas will have advanced connectivity by 2030.
What does ubiquitous farm connectivity achieve? The same study found that if connectivity is implemented successfully in agriculture, it could add a 7-9% increase in value to the global GDP. In an Australian context, the successful adoption of connectivity in agriculture could provide an uplift of $15.2 billion for the sector. This is because over-the-farm connectivity allows growers and farmers to successfully adopt a range of digital technology, AgriTech, robotics, and automation.
As a result, it helps farms and the whole Agri-sector unlock more value and increase ROI while sustainably managing valuable resources. For example, reliable connectivity means GPS technology can be laid out more accurately across a field in real time. As a result, technology in a seeder can measure precisely to a few millimeters so seed resources can be used in the most efficient way. This one example can help save a farm 10,000s of dollars.
Connectivity is critical in helping the industry and farm businesses achieve the actions laid out in the NFF road map to $100 billion. It is an enabler for technology that provides solutions to labour shortages, farm data, food waste on farms, environmental resources, and productivity.
However, these results can only be achieved by successfully implementing appropriate connectivity.
Appropriate connectivity is needed – what is that?
Smart farming is about the farm talking to the farmer so that the farmer can respond accordingly with appropriate decisions. It helps the farmer understand what is happening at an individual paddock level, so they can finetune their understanding of the soil, water, and crops – the natural resources that underpin farm productivity. The digital technologies to enable this are increasingly available on the market. However, they need to be able to properly collect and analyze the farm's data and share this with the farmer. This can only be achieved through appropriate connectivity.
Not all connectivity is equal; as a result, not all connectivity solutions are suitable for modern farming businesses. Some connectivity solutions were not designed for smart farming applications and have limited use cases. Other connectivity solutions are specifically designed to enable digital agriculture and allow the connection and integration of all AgriTech systems across the farm. Care is needed in selecting connectivity solutions, developments such as the national switch off of 3G next year will undoubtably lead to increased agritech connectivity problems.
What is appropriate connectivity for a smart farming business? It is a solution that enables farm-wide fence-to-fence connectivity, allowing growers to adopt digital agriculture and various technologies, AgTech devices, robotics, and automation. Appropriate connectivity solutions for farms should allow basic connectivity functions to occur, such as voice and mobile data use. Critically, it should also have effective, ubiquitous coverage over the whole farm, have the capacity and capability to support data-intensive farming activities, be reliable, have a secure network, be cost-effective, perform in the unique environments found on farms, and be future-proofed.
What is the result of having a network solution that ticks all those boxes? It enables connectivity for the data-intensive digital technologies mentioned in this article, which is crucial in providing an uplift of value for the sector. This connectivity ultimately helps farmers and growers to increase on-farm efficiencies, improve profits, reduce losses, and increase production sustainably now and into the future.
In Conclusion.
Agriculture in Australia is on the cusp of digital transformation. However, for the industry to fully embrace this digital transformation, the challenges in implementing connectivity on farms must be overcome. It is a huge but critical undertaking, with about $20 billion at stake for the Australian agricultural sector. Connectivity is fundamental in helping our industry reach its $100 billion target for 2030. Without appropriate and reliable connectivity, digital technologies cannot be adopted, and therefore the value of these technologies cannot be realized. To a degree, the success, sustainability, and future of the sector depends on the ability to connect farms.
---
Connected Farms is enabling industry 4.0 for agriculture.
What are Connected Farms doing for digital agriculture? Connected Farms deliver proven over-the-farm, wide-area mobile broadband connectivity solutions to enable digital agriculture across rural Australia, New Zealand, and the UK. By working with Farmers, we have developed and practically tested on-farm a range of connectivity pathways that are both robust to withstand the rigours of farm life and powerful enough to deliver fence-to-fence coverage over farms.
What has this enabled for farms? It has allowed farm businesses to begin their industry 4.0 journey. So, to list a few examples, our customers are adopting digital technologies such as remote soil monitoring, equipment and machinery tracking, real-time monitoring, precision spraying and farming, autonomous equipment, Agrobots, and drones for precision imagery. Ultimately, it has facilitated these businesses to realise more efficiency, productivity, growth, and future opportunities—critical factors ensuring the $100 billion industry target is achieved.
Would you like to learn more about this topic? Submit our blog contact form, and we will be in touch with further information.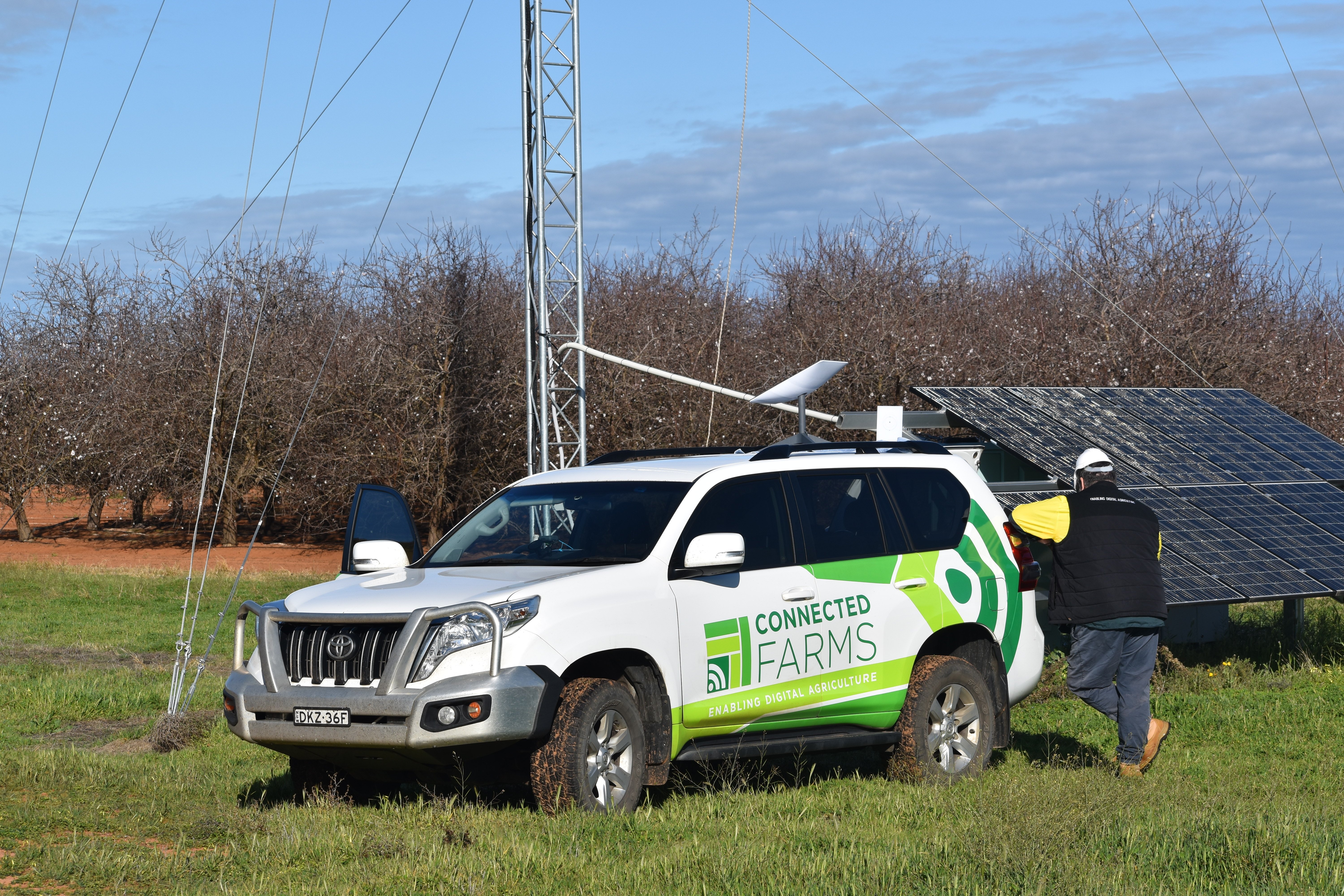 At Connected Farms, we are passionate about sharing our story and the positive difference fast and reliable connectivity has made to our customers' farm operations. For more information, visit HERE.
Would you like to chat and learn more about this topic? Please call us at 1800 497 148 or email knowledgehub@connectedfarms.com.au.